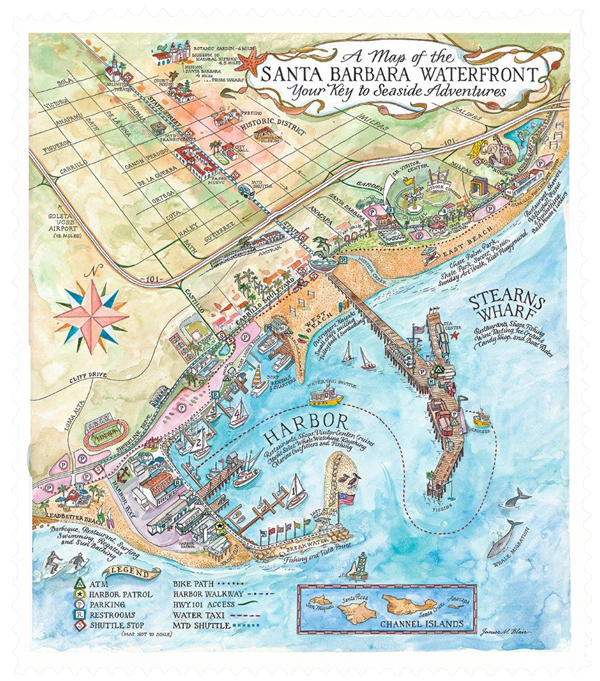 TOURS 
Get a taste of Santa Barbara's spectacular history on an open air trolley tour. See the Santa Barbara Courthouse, Santa Barbara Zoo, Museum of Natural History, Old Town, and the historic Old Mission and more!
Tours run daily and pick up is available at the Fess Parker Doubletree
Land Shark, Santa Barbara Land and Sea Tour
Santa Barbara's original amphibious tour vehicle, the LAND SHARK, offers a narrated 90-minute land and sea tour adventure.  Departs from Stearns Wharf daily.
ATTRACTIONS
Downtown Santa Barbara features restaurants, retail, cultural and historical attractions.
El Presidio de Santa Bárbara State Historic Park 
Founded April 21, 1782, the Santa Barbara Royal Presidio was the last in a chain of four military fortresses built by the Spanish along the coast of Alta California. Two of the fort's original adobe buildings still exist and are open to the public.  Open 10:30am-4:30pm daily
The Funk Zone features artisan shops, art galleries, restaurants, microbreweries, and a craft distillery.  Additionally, five of the many wineries located in the Funk Zone are also part of the Urban Wine Trail.  
The Santa Barbara Mission was established on the Feast of Saint Barbara, December 4, 1786 and was the tenth of twenty-one California Missions to be founded by the Spanish Franciscans. Visitors may tour the museum, mission church, gardens, and gift shop.  Open 9-5 daily.
Visit this National Historic Landmark, completed in 1929 in the Spanish Colonial Revival style. Visitors enjoy touring the courthouse, mural room, grounds, and a trip to the top of the tower for a 360° view of the city, mountains and ocean.  Open 8-5 weekdays, 10:00am-4:30pm weekends
The Museum's collection of the arts of Asia, Europe, and the Americas includes paintings, sculpture, prints, drawings, photographs, ceramics, glass, jades, bronzes, lacquer, and textiles. Particular strengths of the collection are 19th- and 20th-century American and European art, contemporary American painting, photography, and the arts of Asia, especially China. Open Tuesday-Sunday 11-5, Thursday 11-8
Stearns Wharf is located in the harbor.  When completed in 1872, it became the longest deep-water Wharf between San Pedro and San Francisco. The wharf is the home of the Ty Warner Sea Center, has restaurants, specialty shops and is a departure point for the Lil' Toot Water Taxi.
Created by a group of like-minded wineries, the Santa Barbara Urban Wine Trail offers both novices and aficionados the opportunity to learn about and taste wines of many different varieties and styles crafted from Santa Barbara County's vineyards.
MAPS: